Ino Yamanaka

Kanji

山中いの

Rōmaji

Yamanaka Ino

Characteristics

Gender

Female

Hair Color

Blonde

Eye Color

Blue

Status

Occupation
Affiliation

Konohagakure

Clan

Jutsu

Media

Manga Debut
Ino Yamanaka (山中いの, Yamanaka Ino) is a Konohagakure shinobi and former comrade of Sasuke Uchiha.
Appearance
Edit
Ino has blue eyes and hip-length blonde hair, kept in a high ponytail, with bangs covering the right side of her face, and a red clip to the left side of her hair. She wears fishnet warmers on her elbows and wears a pair of the same over her knees. Along with these, she wears a short, purple, sleeveless blouse, an open-front purple apron-skirt over a shorter, black skirt, with short, fishnet shorts underneath. She is also seen wearing stud earrings.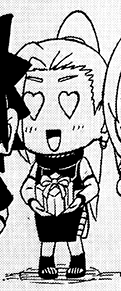 When Ino was a genin, she is seen wearing a pair of small silver hoop-earrings and a short purple vest like blouse with a raised collar, a purple apron skirt that is cut off on the sides and bandages on her stomach and legs. She also wears a purple and white elbow warmers with this.

When Sasuke makes his return back to Konohagakure, Ino is among the few shinobi who comes to congratulate his return. Later, she tries to find a way for Sasuke to notice her by listening to Sasuke, Chōji, and Shikamaru's conversation. After hearing everything that he likes, Ino appears revealing every trait he likes but only to find out that they were talking about certain traits they like in robots. Afterwards, Ino joins her teammates in a game of kick the can with Sasuke being "it". The group fails to capture the can due to Sasuke using his Sharingan to gain the advantage, however, Naruto completely transforms into the Nine-Tails and kicks not only the can away but Sasuke and destroys half of the village.